Manukau Auto & Tyre Centre Auckland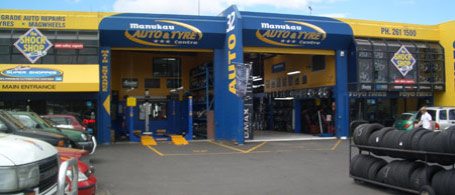 Manukau Auto & Tyre Centre was started in 1986 by Nigel Stickland, doing mechanical repairs and car servicing, branching into tyres and mag wheels in 1988. Within a short time, we were the market leaders in wheels and tyre sales in Auckland.
As a qualified engineer by trade, Nigel Stickland soon recognised the need for specialist alloy wheel repairs and branched into that field in 1990. A full machine shop with specialist wheel repair equipment was set up in a separate workshop.
Mag Wheel Guru
Manukau Auto and Tyre Centre is home to the Mag Wheel Guru aka Nigel Stickland. The Guru started the business in 1986, it has undergone many changes to become market leaders in the automotive industry.
You may have heard the Guru's sometimes hilarious, sometimes strange ads on radio stations such as The Rock and The Sound.
The Guru recommends you check out the Wheel Repairs and Rim Repair sections of our website for some interesting info on what to do if you damage your car's wheels. He recommends Toyo Tyres if you're after quality or high-performance tyres without paying inflated European tyre prices.
The Guru is one of the longest serving members of the Mag Wheel and Tyre industry putting him at a distinct advantage at helping you select the right wheels for your classic car. Check out Old School Classics for some styles he can do deals on for you.
The three divisions of the company employ multiple staff.
Tyre Shop & Mag Wheels Sales:
Nigel Stickland
Te Ariki (Tux) Gardiner
Dan Stickland
Wain Jarvis
Wheel Alignment:
Brad Carmody
Workshop Service Manager:
Dave Hoskin
The Shock Shop Suspension Experts:
Dave Hoskin
Te Ariki (Tux) Gardiner
Andrew Tavinor
Machine Shop Wheel Repairs:
Andrew Tavinor
Administration & Accounts:
Talvinder Singh
OUR FUTURE
We want to maintain our reputation as market leaders. Our staff are continually up skilling to stay abreast of changes in all facets of the industry. Our growth will be within the mag and tyre industry and we want to remain innovative and the market leaders. Our strength is our knowledge coupled with enthusiastic and friendly staff. Our reputation follows us, so by word of mouth, advertising and repeat business we can only increase our market share and loyal customer base.